Jordan Wakefield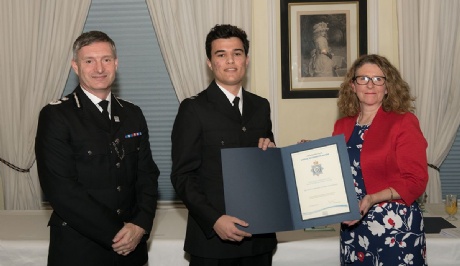 Highly commended for Special Constabulary Officer of the Year in Lincolnshire Police 2019
Jordan achieved an aim when he learned in November 2019 that he had been accepted into Lincolnshire Police.
After leaving Spalding Grammar in 2017, he studied for two years at University Centre Peterborough and completed his Diploma of Higher Education in Crime and Investigative Studies so he could apply for the 2019 intake for the police.
Jordan joined Lincolnshire Police as a Special Constable in October 2017 and currently works at Bourne Police Station.
He was a police cadet from the age of 14 and in 2017 commenced his studies for his policing degree. He continues to give his time to the cadets as part of the Instructor Team at Bourne and more recently at Spalding.
Lincolnshire Police said: "Jordan embraces a broad spectrum of policing and has given his personal time unselfishly. He is a productive officer, a pleasure to work alongside and a real asset to Lincolnshire Police. Jordan's presence whilst on duty is seen as a true counterpart to colleagues.
"During the last year Jordan was instrumental in identifying a nominal who was part of a local vehicle crime series leading to the disruption of such criminality, but he also knows the importance of having a "human element" to policing, setting high standards for others to follow.
"Jordan is a valued member of the team and the Force greatly appreciates the contribution he has made to policing in Lincolnshire. His continuous display of enthusiasm encapsulates the dedication he has to help others and is an example that future generations can aspire to follow."
Jordan, who studied Law in Sixth Form, said his experience at Spalding Grammar was enriched by trips to Washington DC, Belgium, Spain and Spalding's twin town in Germany, Speyer.
He said he is grateful to Director of Sixth Form, Dr Adriana Leadbeater, for her valuable support and guidance.