Student's fundraising benefits hospice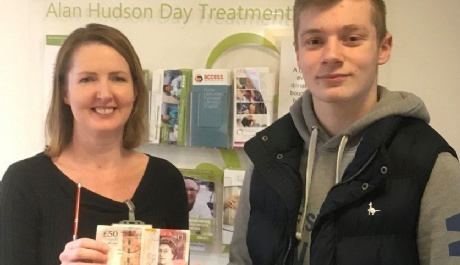 Jake Barnes presents £1,000 to facility close to his heart
A hospice close to the heart of a Spalding Grammar School student has benefited from his fundraising of £1,000.
Jake Barnes was part of a planned school expedition to Peru later this year. Unfortunately the trip had to be cancelled due to a lack of participants.
Jake (16), who had already raised £1,000 towards the trip through various means including bingo sessions and gift set sales, was determined to see the money go to a good cause.
The Alan Hudson Day Treatment Centre based at North Cambs Hospital in Wisbech is part of Arthur Rank Hospice Charity and provides care for people with a life-limiting illness or condition and their loved ones. The centre supported Jake's late grandad who died of cancer.
Jake, who lives in Wisbech, said: "I saw online that the hospice was fundraising £50,000 for a new development and I thought it would be the perfect place for the money to go.
"I'm really pleased that something good has come out of a disappointment for me personally that the trip didn't come to fruition.
"I'd like to thank all the people who supported me in my fundraising."
Arthur Rank Hospice Charity described the donation as a lovely New Year surprise.
It said: "A lot of time and effort went into raising this money so we thank Jake and everyone who supported him for thinking of us."