Yr4 & 5 Open Evening June 29th 2017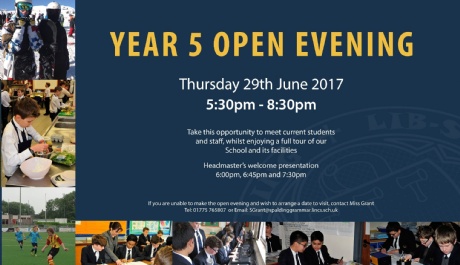 This is a great opportunity to visit the School and see the facilities our students enjoy!
Headmaster, Mr SM Wilkinson, will be giving welcome presentations at 6pm, 6:45pm and 7:30pm. Here you can listen to the benefits of chosing our Grammar School and the learning journey our students take throughout their secondary school education.
Our current students will greet you and give you a guided tour of the school. Each department you enter will have a showcase of work, and teacher's will be on hand to answer your questions.
We know that a student will only reach their true potential if they enjoy their education - and to do this they must be happy in their learning environment. We want you to leave feeling confident that your son will not just receive a superb education, but that he will be cared for, included and treated as an individual and an equal whilst he is with us.
If you are unable to make the evening please contact Miss Grant to arrange to visit the school at your convenience. Tel: 01775 765807 or email: SGrant@spaldinggrammar.lincs.sch.uk