Y12 student heads to USA with scholarship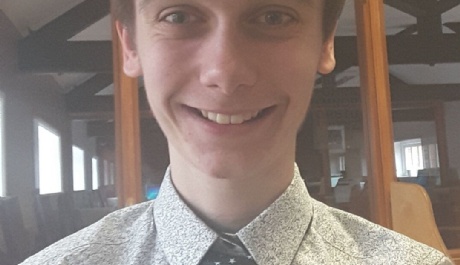 Ed Tranter has been selected out of over 1200 for a Scholarship with The Sutton Trust
Bentley House Captain, Edward Tranter, has been offered a scholarship to study Law at one of America's top universities. Year 12 student, Ed, is the first from the Grammar to ever be selected to participate in the Sutton Trust US Programme 2017.
The aim of the programme is to encourage academically talented British students from less well-off families to consider studying at American universities.
Ed beat off competition from over 1,200 students from across the UK to earn his place in the 2017 cohort. He was then selected to join a group of 175 students at a weekend introductory residential in London. After a series of interviews and tests, he was finally given the fantastic news that he was in the final 150 and had secured a ticket to fly to America later this month to visit some of the universities there. Ed will participate in a summer school in the US at Yale University, spending a week living on campus, and will visit Harvard and other US universities in the area. Due to his predicted grades, he plans to apply to either Yale, Harvard or the University of Virginia, all of which are in the top 10 Universities in the world.
His family's financial situation means he should be able to travel to the US and take part in a four-year undergraduate programme for free.
Ed only started the application eight days before the deadline and had to write six 500 word essays and give a detailed list of 10 extracurricular activities. He also took the American College Testing exam and scored 31/36, putting him in the top four per cent of all test takers. He still has a further two Scholastic Assessment Tests in October in English Literature and Mathematics.
Ed said: "Both my parents are very proud, my mother overly so – she tells everyone about my place on the US Sutton Trust, even strangers!"
"When I first found out I was so excited. This is such an amazing experience. I can't wait to go to Yale during the holidays and look at potential colleges."
"I'd like to especially thank Mr Love for his unwavering support throughout my application to the Sutton Trust, as well as his continued support for my future applications to US institutions; I am most definitely sure that if it wasn't for his reference, I would not have got a place on the programme."
To be able to apply for the programme you need at least eight A's or A*'s in GCSEs (Ed received 7A*s and 4As) and your family income must be below £25,000 per year.
Ed now plans to perform talks for Spalding Grammar students at the beginning of next year to promote the Sutton Trust and to ensure that more students take this opportunity.