Hobson claim victory at SGS Sports Day 2017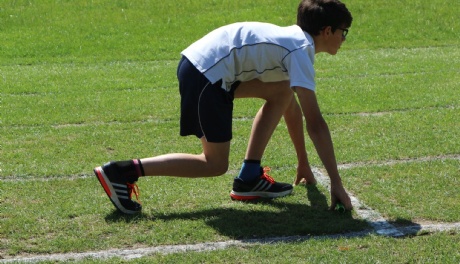 Over 200 competitors from Years 7-10 descended onto the school fields on Friday 14th July to take part in our annual Sports Day competition
In addition to the pleasing levels of team spirit, resilience and commitment of the students, we saw a number of stand-out performances too. Highlights included:
In Year 8, Ruben Garner (J) broke Henry Briggs' 2014 discus record by one metre, throwing 26.10m.
In Year 10, Jack Roffe (W) equalled his shot performance of 13.00m from last year to break the U15 record – having broken the U14 record last year too.
Jack Patrick (J), Jack Roffe (W) and Will Wand (J) competed closely in the Y10 discus by throwing 30.00m, 33.23m and 33.42m, respectively.
Y10 Harrison Burrows (G) narrowly beat Rueben Cave (W) the 800m in a closely fought race which saw just five seconds separate the top five runners.
In a tightly fought 200m final, Noah Cooke (J) edged ahead of Ryan Firth (H) to take victory, in a final which saw just two seconds between the first four runners.
Tads Mhere's (J) home leg in the Year 7 4x100m relay saw him overtake his Hobson rival in the dying metres to secure victory.
Dominance from some Year 9 athletes: Sepiso Irotumhe (M) winning both high and triple jump, Louis Pepe (W) victorious in shot and discus, and Tom Lee (B) with the 100m/200m sprint double and long jump.
Go to the Gallery for pictures of the action!
The inter-house competition was closely fought, with the lead changing place several times throughout the day once again between Hobson and Johnson; the former prevailing by just 12 raw points.
From each event the top six competitors accrued 'raw' points (6 for first, 5 for second etc). Then at each Year group interhouse points are awarded based upon position – i.e. the highest scoring house in Year 7 get 12 interhouse points, second 10 interhouse points, and so on. A summary of the scores can be found below, and a complete breakdown of the results from each final can be found on the VLE (Subjects > PE > Interhouse > Sports Day).
We would like to extend our thanks to a number of people for making the event so successful. Firstly, the competitors for their efforts and collaboration throughout the events. Secondly, the officials who helped measure, time and record results so accurately; many of these were our Y12 Sports Leadership and A-level students. The site team who prepared the facilities so well, and to Mr Evans, Mr Colwell, Miss Smith and Mr Harris, who helped with officiating throughout the day.
We look forward to another fantastic competition next year.
PE Department