Year 11 Careers Morning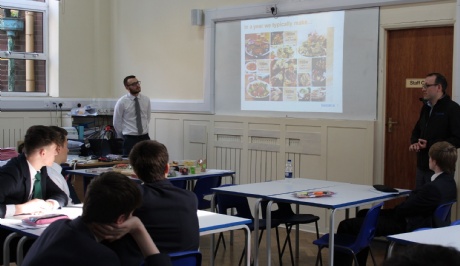 Apprenticeship or Degree? This was the question...
On Monday 16th October, Year 11 students took part in a Careers Carousel during their PaCE lesson. With a total of 16 guest speakers, covering 11 career options, all students were able to discuss their potential career options with 3 different companies throughout the morning.
We had a wide range of professions including the Amy, the Police, Accountants (Duncan & Toplis), Engineering and Business (Welland Power), Sports Coaching (Evolve), HR and general apprenticeships opportunities (Flamingo Group), Banking and Finance (Barclays Bank), the Prison Service and our independent Careers Advisor who spoke about Pot 16 options.
The morning ran smoothly and the students all seemed to gain something new from the talks, leaving them, hopefully, with a more open mind which will assist them when making future educational and career decisions
Mr Delaney (Calthrops Solicitors) caused raised eyebrows as he explained that there were a few routes available to reach the post of Solicitor or Barrister, not just University; The NHS demonstrated that there are 'hidden' areas within the Service and that it is not all about medicine and nursing, while ex-students, Levi Mann and Daniel Carrott, talked about their experiences within Bakkavor and the post A Level and post Graduate apprenticeship schemes they took in Business Management.
Thank you to all that took part. We hope to see you all again, in your varying roles, as we work closely to give our students the best information we can regarding their future learning journeys.
See the Gallery for more photos from the morning.