SGS Artists take first and second prize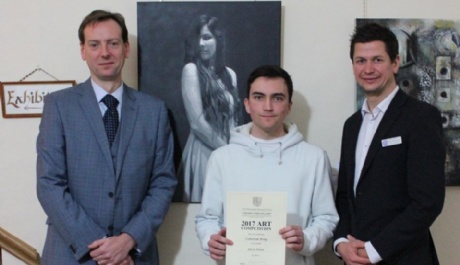 Record breaking success at the Willoughby Gallery annual competition 2017
On the decidedly crisp evening of Friday 24th November, exhibiting and prizewinning students supported by their proud parents and teachers, gathered at the picturesque Willoughby Gallery in the heart of Corby Glen. It has become somewhat of a regular pilgrimage for the Art & Design department at Spalding Grammar School, as our students have an excellent track record of success in this competition, but this year is our best to date.
In Class 5, roughly equivalent to A Level, we took both first and second prizes. Cameron Bray, pictured above, flanked by our Headmaster Mr Wilkinson, and Assistant Head Mr Endersbee, is in front of his spray painted acrylic work "Lois," which won first prize. Daniel Pearce, seen below, with his highly accomplished acrylic painting "Wind Dance," won second prize in the same Class.
In Class 3, aged 11-14, we had 2 prize winners and 2 students highly commended: Dawid Borkowski won second prize with his vibrant self-portrait diptych and Ethan Waring won third for his highly colourful portrait of his cat.
The Judges awarded highly commended to Harvey Graham and Sepiso Irotumhe for their innovative silkscreen print self-portraits, and several other submissions were hung to the acclaim of all who attended, including Joe Bamford's excellent "Presidential Marmite."