Hockey News for SGS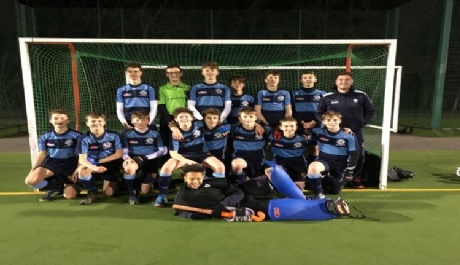 Spalding Grammar School Hockey Teams for U18's (1 X1), U16's and U13's have been out and about this week, performing well against some strong opposition.
U18 (1 X1), first time out this year, were unlucky to concede to Uppingham School in the first round of the U18 Hockey Cup, captained by Matt Day. Joshua Clarke stood in goal at the last minute for the first time and made some surprising saves. U18's then went on to play Stamford School U18 A/B and narrowly lost 2:0, with Gabby Taylor in goal. Cameron Ibrahim was voted MOTM for both matches.
SGS U13, First time out SGS U13, played well for a convincing win against St George's Academy 6:1. This team went on to win Stamford Stamford School A/B-2:1, captained by George Neale . This team shows great promise and will be facing Oundle School on Monday. Notable peformances from Harry Maplethorpe, Tom Bland, Charlie Roberts. Tom Chesworth (GK).
SGS U16-(Pictured above). SGS U16 won 11:0 v Stamford School A/B U16. This team captained by Will Taylor, won a well deserved 11:0. Joshua Baker scored within the first two minutes, setting the scene for the remainder of the game. Jack Patrick made a guest appearance in this sport and almost went on to score!
All boys put in maximum effort and worked well as a team, which is reflected in the score. Sterling defence from Cameron Ibrahim, Jacob Synnott, Matthew Peach. Josh Haines(GK). Goals from Joshua Baker 4, Max Bland 3, Will Taylor 2, Harry Wakeham 1, Alex Doughty 1.
U14 and U16 face the next round of the East National Boys Schools Championships on February 8th.