Shoebox Appeal November 19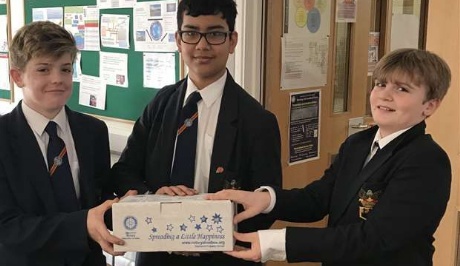 75 shoeboxes were filled by Spalding Grammar School, supported by Mr Crane and Spalding Rotary
Spalding Grammar School has supported the Rotary Shoebox Scheme by filling 75 of them.
Students and teachers worked together to help the scheme which seeks to send a little happiness to disadvantaged children and adults in eastern Europe.
Spalding Grammar's effort for the local scheme run by the Rotary Club of South Holland was co-ordinated by PE teacher Chris Crane.He said: "Students were asked to produce a shoebox full of items such as toys, writing equipment and toiletries for differing age groups.It was really pleasing to see the response and enthusiasm among them. Special mention goes to Mrs Graham's form who filled 10 shoeboxes.
This was the first year the school has taken part and everybody enjoyed it. We hope the shoeboxes will bring some cheer to those in need.
Rotary arranges for the filled shoeboxes to be distributed in countries including Romania, Moldova and Ukraine.