Senior Football Victory V Carre's Grammar School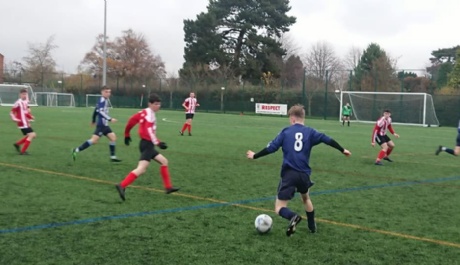 SGS took control of the match early on and dominated the first half with what Mr Endersbee described as the best half of football he has ever seen the seniors play (27 Nov 2019)
SENIOR FOOTBALL: This afternoon the senior 1st team travelled to Carre's Grammar School for a return trip of last week's league match.
In similar fashion to last week, SGS took control of the match early on and dominated the first half with what Mr Endersbee described as the best half of football he has ever seen the seniors play. Well taken goals from J.Clark, L.Hood, and a first half quad from J.Elston made the score 6-0 at half time.
The second half continued with SGS playing some outstanding football, adding to the tally with goals from J.Elston (pen) and G.Thornley to make the final score 8-0.
Today's squad: T.Shuster, B.Baker, D.Mazhindu, M.Baxter, J.Ling, H.Wirkowski, G.Thornley, M.Bailey, J.Clark, J.Elston, P.Banhire, S.Irotumhe, J.Holland, L.Hood
MOTM: J.Elston
The B Team match against Giles was postponed due to a waterlogged pitch.