Art students work with local construction company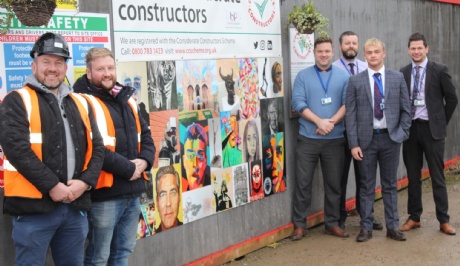 SGS Art students collaborate with Burmor Projects as part of the Considerate Constructors Scheme
Fantastic artwork produced at Spalding Grammar School is making a building site in the town look more attractive, thanks to a former student.
Burmor Projects is building 20 social housing units in Willow Walk and managing director Luke Boekestyn came up with the idea to brighten up the site's hoardings. Twenty one pieces of work have been collated and printed on to an aluminium sheet mounted at the entrance.
The firm, which is based at Market Deeping, is registered with the Considerate Constructors Scheme, which aims to improve the image of the industry.
Mr Boekestyn, 29, said: "Part of the ethos of the scheme is working with the local community and I thought this would be a good way of showcasing the superb talent at the school while making the site's hoardings look nicer too.
"I'm really pleased with how it looks - the standard of artwork is very high. I've been in the construction industry since I left Spalding Grammar in 2007 and it's nice to have imagery like this up on the front of the site.
"Being an ex-student, I'm delighted and proud to have worked with the school on bringing this idea to fruition. I'd like to thank everyone involved at Spalding Grammar, particularly the students for allowing me to use their exceptional work."
David Wise, the school's Head of Art, said: "We're really grateful to Luke and his firm for this fantastic opportunity. Our students can rightly be very proud to see their talented work being used in such a prominent and useful way."