PFA fundraises £100,000 in seven years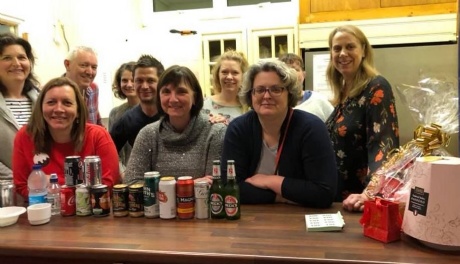 Our brilliant Parents and Friends' Association is so important to the school and we're very grateful!
A fantastic £100,000 has been raised by our Parents and Friends' Association over the past seven years.
Ahead of the launch of ticket sales for the PFA's biggest annual fundraiser – the Easter raffle – we're shining a light on its tireless efforts and some of the £29,000 of items bought over the last three years.
PFA chair Julie Walton said: "We have purchased table tennis tables for outside, replaced furnishings in the Sixth Form Coffee Lounge and updated the light and sound systems in the hall."
Picnic benches, weather analysis instruments and a 3D printer are other notable items.
Equally important, though, to our students' learning and enrichment and the smooth running of the school is some of the smaller ticket items such as countdown clocks for Chess Club, a tumble dryer for the canteen and Minecraft licences.
None of this would be possible without the tremendous efforts of the PFA, which has 12 members on its committee, who come together with the Headmaster, school staff and pupils. Through its year-round functions and activities, the group is able to consider and support annual bids from any department across our school community.
The most recent event was a quiz night in January which brought in more than £900.
Miss Walton said: "The Easter raffle is the big event this term. There will be another quiz next term and we're planning a football tournament for June.
"We also run bars at school concerts, performances and celebration evenings."
Assistant headteacher Mr Endersbee says the PFA is an integral and valued group within our school community.
He added: "As PFA liaison, I am always in awe of the generosity shown by its members, giving up their time to organise and run events to raise funds for our students.
"Their support to the school is fundamental, and in my opinion two-fold. First and foremost, they help create an excellent atmosphere of fun and togetherness through their various events, which help enthuse parents, students and the wider community.
"Secondly, in current times of continued financial hardship in education, the £100,000 they have raised in the past seven years goes an awful long way to help provide educational and enrichment resources that simply cannot be afforded through Government capitation; all to the benefit of our students.
"In short, they are an inspirational group of volunteers who go above and beyond to improve the educational experience for our students."
The PFA is only able to operate and support the school in this way by the efforts of its volunteers and the success of its fundraising activities. Anybody able to spare a few hours – even on a now and then basis – would be made very welcome.
Miss Walton said: "We meet eight times a year and the more people who can help, the more we can raise!"
The PFA also provides a uniform rehoming service. Any uniform which is no longer needed and is in wearable condition can be donated via the school office.
To check on available uniform email ptagram@yahoo.com, which can also be used for any contact with the PFA. Facebook page Spalding Grammar School PFA has details of forthcoming events.