Continued success for SGS artists at The National Students' Exhibition 2017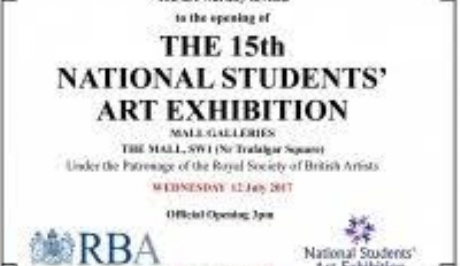 Four A Level students were proud to see their work hung at The Mall Galleries, London this month after being selected by the judging panel.
Currently in its fifteenth year, The National Students' Art Exhibition is held under the patronage of the Royal Society of British Artists.
The official Opening and the exhibition itself are in the Mall Galleries, just round the corner from Trafalgar Square. This outstanding student artists' work is exhibited alongside paintings from some of our finest professional artists. It is a truly inspirational annual event, celebrating gifted and talented students in Schools, Colleges and Academies from across the country.
This year I entered 4 works by 4 of our A Level artists - all were accepted by the judging panel for hanging, making this the joint strongest year ever for results. Successful students, proud parents and family and friends were invited to attend the Opening on the 12th of July. It was a wonderful opportunity to celebrate 'the best of the best' and to inspire an upcoming generation.
Tom Beardwell, a Y13 veteran of this competition, gave us "Chimera," an extraordinarily accomplished sculpture in polymer clay, with a wolf's exterior peeled away in places to reveal a human skeleton underneath. Cameron Bray, a highly talented Y12, produced a wonderfully contemplative, spray painted portrait titled "Lois." Dan Pearce, another star of Y12 gave us an exquisite, abstract acrylic painting on the subject of his hobby, titled "Taekwondo Ballet." Monika Watras, a highly diligent Y13 who just missed getting selected last year, was successful this time around with a Terminator styled acrylic portrait of her boyfriend entitled "SIMCA 1000."
Visit the Gallery page for pictures of the incredible work!
Most of these exceptional students have a creative career planned for their future. In the mix we have a future professional special effects designer, a fine artist, an architect and a lawyer.
We congratulate them on their recent success in this challenging exhibition and we wish them well in their future endeavours.
Mrs Livingstone
Head of Art & Design