Library Certificate Evening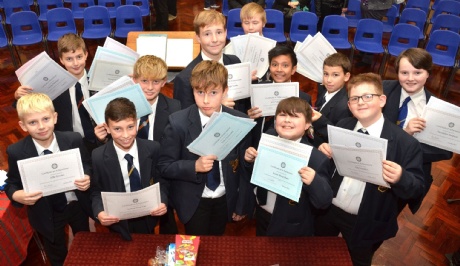 SGS celebrate the reading succes of Y8 students
On Tuesday 17th October we held our fourth annual Library Certificate Evening. A chance for students, staff and families to get together and celebrate the reading prowess of our year 8 students.
Librarian, Mrs Graham, talked about the benefits of reading, followed by several of our students explaining what they had to achieve in each of the 5 reading challenges.
Students were also excited to share reviews, which they had written, about some of the books they had read.
Once Mr Wilkinson had presented the boys with their Reading Certificates, we were proud to announce the following awards...
First was the 'Top Readers' awards – this year they went to George Wakeham, Jacob Callow and Aidan McMurray.
Next came the award for the boys who had completed all 5 of their reading challenges –not a mean feat to achieve! This year the prizes went to George Wakeham, Tom Chesworth, Tom Flanz and Ryan Firth.
The last award of the evening was for the 'Most Improved Reader'. This year was a particularly tough decision for Mrs Graham, therefore Jacob Callow, Jessie Honeybun and Joshua French all received the award!
All the special award winners received a book token, a reading book and chocolate!
It was a great evening; students are always proud for parents to see their achievements, and we feel it is a great way of demonstrating our continual encouragement around reading!