26th September is European Day of Languages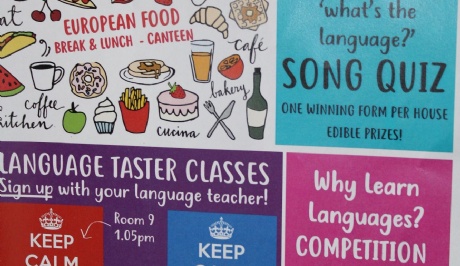 Spalding Grammar students embraced the spirit of Languages
Today marks the 16th annual 'European Day of Languages' with the aim of recognising the value of language learning, promoting cultural diversity and encouraging life-long language learning, both inside and outside of school.
To celebrate and remain in keeping with the ethos of the European Day of Languages, the Modern Foreign Languages (MFL) department has organised a day full of language and European culture related events. The day will begin with modern European music playing in the MFL corridor, continue with an intriguing 'Guess the Language' Song Quiz during Form Period, complemented by some tasty bites from our European neighbours, organised by the canteen in the form of paella (Spain), spaghetti (Italy), pain au chocolat (France) and Currywust (German) served at break and lunch.
If that wasn't enough, students can sign up to one off language taster lessons including Modern Greek and Polish run at lunchtime on Tuesday which can be enjoyed whilst eating their lunch.
Finally, students in Y7-9 can enter the 'Why Learn Languages?' poster competition, creating a colourful poster convincing others about the importance of languages and why we should learn them, similarly, students in Y10-13 may also enter the competition with an essay in a foreign language outlining the same thing. Amazon Gift Vouchers are available to one winner in each year group (7-13) and entries must be in to Miss Dungarwalla in Room 9 by the end of the day on Monday 2nd October.
Help us to keep languages alive and celebrate the value of languages and other cultures by getting involved!
Miss S Dungarwalla
MFL Teacher