SGS Qualify for Hockey Regionals (EAST)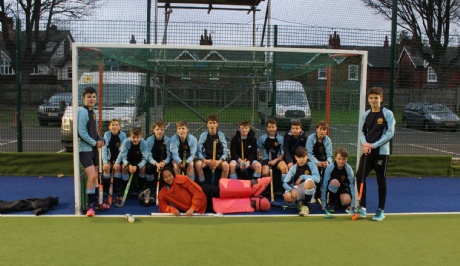 Lincolnshire Under 14's Boys Senior Schools County Tournament in Lincoln
Lincolnshire Under 14's Boys Senior Schools County Tournament
QUALIFIED for Regionals (EAST)
Spalding Grammar School U14's, travelled to Lincoln for their first School Hockey fixture of the season. The boys were a credit to Spalding Grammar School, both on and off the pitch. The team shows great promise and we look forward to the forthcoming fixtures in the New Year.
The Under 14 boys, captained by Tom Amess , performed well and worked tirelessly at the Lincolnshire County Tournament.
Whilst Spalding Grammar School has some talented young Hockey players, playing at County, Junior, Club and JRPC, this was the first time they had all played together for some time as a team.
SGS convincingly won two out of three matches, 8:1 v William Farr and 6:0 v Lincoln Minster. Unfortunately we conceeded to a very well drilled Stamford School, with a 0:1 Loss.
Great play and teamwork, but notably outstanding play from Center Mid Joe Maltby who scored over half the goals, Tom Amess (Captain), Matthew Peach (Centre Back) and George Halgarth (CA Midfield).
Our youngest player, Oliver Baker (Year 7) slotted in well as Right Mid Reserve.
Goal scorers included: Tom Amess, Joe Maltby, George Halgarth ,George Neal, Tom Amess and Oliver Smith.
Our thanks to Josh Ripley, who travelled as Umpire and also stepped in for other Schools. Josh commanded the field well, with calm but authorative umpiring.
Well done all.
Next Hockey Fixture U16's Lincoln 15th December.
Mrs H Wild