The Royal Navy come to SGS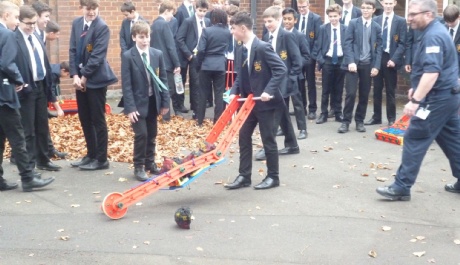 Y9 and 10 students took part in a morning of team building excersices and were educated on life in the Royal Navy
On Wednesday, selected Y9 and 10 students were treated to a morning learning all about the Royal Navy. Petty Officer Sanders and his Leading Hand explained about some of the roles that the Navy partakes in such as anti-piracy, human/drug trafficking, safety of shipping lanes and as a nuclear deterrents just to name a few. They were keen and willing to answer any questions we had on the jobs in the Navy whilst delivering a presentation showing where the Navy and the Royal Marines are in the world at the moment.
We participated in team building exercises, including having to build a 6ft free-standing tower and a wheelbarrow, which finished in a race in which my group won. After break, they laid out three exercises -The Tower of Hanoi, 'Remove the Bomb' drill and blind shape-making.
The morning was very interesting and taught me a lot as I want to join the Navy when I am old enough. On behalf of all the students that took part, I would like to thank Petty Officer Sanders, his Leading Hand and also the PaCE department for giving us this opportunity.
Ethan Pearson
Y9 G-JMR