Twelve SGS students complete the FA Basic Referees Course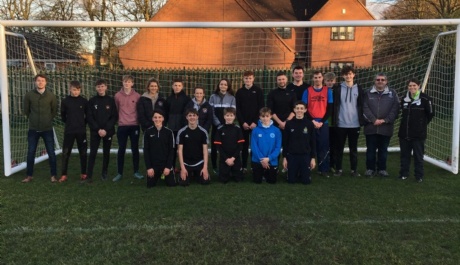 Lincs FA and Spalding Grammar School combine again to offer successful referees course.
18 candidates recently completed the FA Basic Referees Course at Spalding Grammar School, the second year this course has run.
Twelve students from Spalding Grammar were joined by six other candidates from around the county to be put through their paces by the Lincolnshire FA Referee Tutors. Lincolnshire FA's Referee Development Officer Michael Brader led the course, along with Level 4 referee Sarah Grundy. Support was also offered throughout the weekend by Simon Bell, George Richardson, and Hazel and David Burgess of the Peterborough Junior Alliance League who will be guiding them through their early games.
The course entailed a two hour evening induction session, followed by a full weekend of theoretical and practical workshops in order to provide the young people with the knowledge and skills for refereeing.
It then finished with the students being assessed while refereeing a small-sided match.
As part of the wider qualification the students will now complete five matches before sitting the formal referees examination to fully qualify and begin officiating local matches.
The games they will officiate include some played in the Peterborough Junior Alliance League, meaning that teams in South Holland will benefit from this new influx of referees.
Spalding Grammar School's Assistant Headteacher Dave Endersbee said: "It gave me great pleasure to work with Michael in organising and hosting this event once again. From start to finish, the communication of Michael and his team was excellent and highly professional, thus offering the candidates an excellent course. I am particularly pleased to see so many of our students engaged in the process once again, three more than last year. As a school we have recently introduced termly themes of setting high expectations, taking responsibility and getting out of comfort zones. These students have demonstrated exactly these values through the completion of this course. Michael and I have already spoken about arranging the course again for next year, to hopefully another cohort of keen participants."
The students involved from Spalding Grammar were James Harrison, Jack Forster, Jacob Drew, George Thornley, Joshua Ling, Daniel Plant, Tom McKenna, Alex Doughty, James Clark, Ben Baker, Finley Marston-Smith and Luke Fox.
Holbeach United Junior Girls U15 also provided three new young referees, Lois Bell, Kayleigh Waters and Amelia Watkin who will further swell the growing number of young ladies who have taken up the whistle in Lincolnshire.
The remainder of the cohort were Dominic Hill, Josh Rogers and Brendon Richardson.