PFA Quiz - CHANGE OF DATE...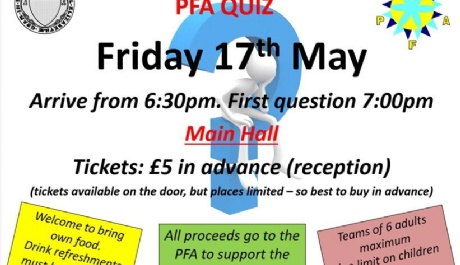 Due to logistics, we have had to move the date back a week to Friday 17th May
The last quiz in January saw the hall brimming, and us clear £1000 profit for the first time, a fantastic achievement and a significant sum of money the PFA will reinvest into our students' education. Let's see if we can repeat this! My Favourite Team were victorious – and will no doubt be keen to defend their title!
Tickets are available at reception, priced £5. Tickets may also be available on the door, but please note that we do have a limit to guests in the main hall, and so we recommend you buy in advance to avoid disappointment.
Teams of 6 adults maximum (unlimited children). Drinks available for purchase at the event. Guests are welcome to bring their own food and snacks.
Mr Endersbee (aka 'Quizmaster')