Battlefields Tour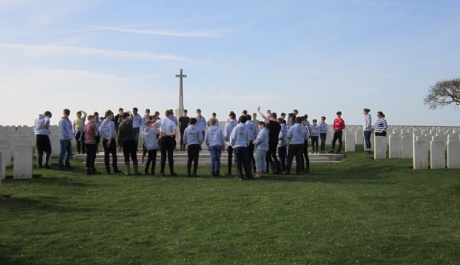 Another fantastic experience for our Yr9 boys in France and Berlin
Day One and Two:
The first couple of days out in the field have been tremendous. On day one the boys went to the British and German front lines at the northern entrance to Ieper, had an evening walk through the town and enjoyed dinner out.
On Sunday, we started out at Newfoundland Park with an amazing Canadian guide who talked us through the experiences of the Royal Newfoundlanders. We then had a battlefield walk at Serre, with some super field finds. Thiepval was next on the agenda - first lunch in the sunshine, then a look at the impressive memorial, closely followed by Ulster tower and a superb guided tour about the Ulster regiment. The boys walked along sausage valley and were awestruck by the size of the crater, and rounded up the sites with a visit to Gordon Dump Cemetery and a moments silence to remember the Lincolnshires who fell there.
We are all very proud of our boys. Their behaviour has been outstanding, and we have all enjoyed lively conversation at dinner.
Day Three:
We spent a lovely morning at the Memorial Museum. The boys went into a recreated dugout, and even those who were unsure about small spaces had an explore. We then moved on to Langemark German Cemetery to compare it to the Commonwealth cemeteries that we have visited so far. The afternoon was wrapped up by a 2 hour walk following British and German front lines from Palingbeek to Hill 60 with our local guide Carl. After a quick change into school uniform, and a superb chicken and chips dinner at a local restaurant, we headed to the Menin Gate. Three of our lads, Matthew, Nathan and Mason had the honour of laying a wreath at the ceremony. They did us proud - as did all of our boys.