Bronze Award Holders collect their Duke of Edinburgh badges.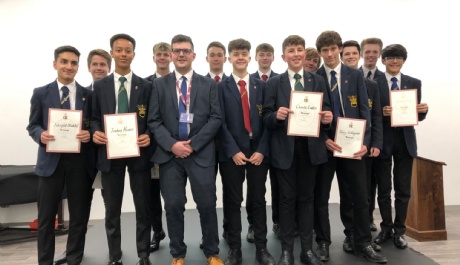 Photo: Bronze Award Holders collected their Badges and Certificates from D of E Operational Manager Jack Harris
You will be amazed how many apps there are currently at your fingertips. Currently Google Play has available apps whilst Apple Store has only 1.8 million. There seems to be an app for everything; fitness tracking, recipe ideas, social media and even one, where you can "milk a cow". We live in a app obsessed nation. Even D of E have now launched their new app, where students can upload their evidence or search for relevant information.
However, these apps cannot physically complete the extensive hours that students need to complete their D of E Award. The D of E Award has three levels. All students must complete a specified number of hours volunteering, learning a new skill or performing a physical activity. Students also need to complete an expedition with the Gold participants needing to complete a 5 day residential. Therefore, the students must be congratulated, not only on completing their awards, but doing it with minimum contact to modern technology.
They have joined a select and prestige club, where new doors and opportunities will be opened to them. Along their journey, they have shown high levels of commitment, dedication and perseverance, which we must commend them for.
This year, students having been completing their award by baking some delicious treats for the PE department whilst others have been serenading us with their guitar playing. Students have been volunteering in libraries, youth clubs, care homes and charity shops whilst spending many hours improving their rugby skills, squash serves and roller blading skills.
However, some of the most memorable moments occur on the expeditions. As volunteers, the staff are in the best position to sit back and watch all the chaos that unfolds before them. This year, I have witness one student carrying the tiniest bag and having to carry all of his cooking and sleeping equipment. One group who were confidently marching off in one direction and only realising after 2 km, that their map was upside down.
These memories will last for ever and so will the satisfaction on completing the award. On behalf and Mr Venables and I, we would like to thank all the parents for the continued support, buying all the kit, picking the students up and then having to wash all the dirty clothes. We would also like to thank all the members of staff who have given up their own free time at weekend and evenings to support the various expeditions. Finally, we would like to thank all the students for all their hard work and for all the happy times. Congratulations and well done!