SGS Sri Lanka cricket tour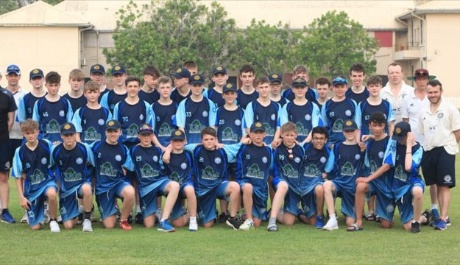 The Yr 9 and 10 students were a credit to the school as they enjoyed in excess of 12 matches over 5 days!
During the Easter holidays Spalding Grammar School took thirty five year 9 and year 10 students to Sri Lanka for their yearly cricket tour. The tour party stayed at the superbly appointed Mount Lavinia Hotel just south of Colombo. The first day in Sri Lanka allowed the boys to acclimatise with a training morning and a city tour of Colombo.
The next five days of the tour consisted of a heavy cricket schedule with twelve matches in total across the three squads. The students were extremely lucky to play fixtures at some outstanding cricket grounds, in particular the Colombo Oval where England played Sri Lanka in a ODI as recently as 2012. In addition to the international cricket stadium, all squads were able to experience fixtures at as equally impressive first class cricket grounds.
Throughout the tour there were some excellent individual performances, such as Brandon Andrews excellent batting and bowling performances for the 1st XI, Tom Moxon's batting and captaincy of the 2nd XI, Nathan Culley's batting heroics in the last fixture for the 2nd XI and Dylan Taylor's first ever wicket (which ended up being four wickets in total). After the intense cricket schedule the boys had earnt a day of relaxation which included a city tour of Galle on the south of the island, a river boat safari and an afternoon at a superb 5* hotel including lunch and the use of their private pool and beach.
The school can be extremely proud of the students who travelled on the tour, their behaviour and conduct was exceptional throughout. This was commented on by many members of the public and hotel staff. It was pleasing to see many new friendships grow and students become more independent and mature during the trip.
With the help of Lions Sports Travel the Sri Lanka tour proved to be an incredible success, with Sri Lanka itself proving to be a beautiful country with extremely friendly local people, where the genuine passion for cricket is plain to see.
Thank you to the whole tour party, staff and students, Lions Sports Travel and parents for your support throughout the organisation of this cricket tour. Further thanks must also go the local companies, Emmets, accountants Bulley Davey and Spalding Cricket Club whose invaluable support helped provide some of the excellent training and match clothing which can be seen in the pictures.