A Christmas Concert and Farewell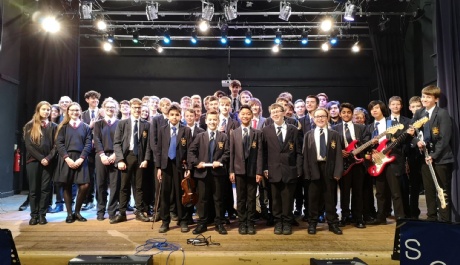 A Farewell to Mr Lane, who leaves SGS for pastures new at Christmas. Mr Lane will be greatly missed by both staff and students.
On Tuesday evening, Spalding Grammar School's Music Department presented 'A Christmas Concert' in the lead up to the Christmas Holidays. Head of Music Mrs Howman and Mr Endersbee (Assistant Head), were delighted with the quality and range of performances. There was a great festive atmosphere in the Hall and audience seemed to be really getting into the Christmas spirit as the performances continued into the evening.
Act One included a Soul Band and groups 'Penguinz' and 'Who Shot Frank?', as well as individual performances from vocalists and pianists and also Head Boy Daniel Dorey-Rodriguez.
The cast from the imminent production of 'Little Shop of Horrors' performed 'Skid Row' as a taster to the show. The Year 10 Band performed hits from the Arctic Monkeys and Shakin 'Stevens in both acts.
There was also a heartfelt thank you to Mr Lane (Teacher of Music), as he leaves for pastures new at Christmas. Mr Lane has been a great asset to the Music Department at Spalding Grammar School and will be sadly missed by staff and students.