Student targets and flight paths
At Spalding Grammar School, the majority of students are capable of making rapid progress and of achieving top-end grades. As such, individual student subject targets are set in line with high expectation models and our school systems and ethos operate to motivate students to progress at a rapid rate towards these aspirational outcomes.
Flight paths are applied from Year 7 to Year 11 and separately in Year 12 in to Year 13. End of GCSE or Post-16 aspirational outcomes are established, and used to reverse engineer interim end of year grades. This provides a relatively short-term, achievable goal for students to work towards, linked to their expected GCSE/Post-16 outcomes.
Linear flight paths provide a simple, understandable progression model that motivates students to improve regardless of ultimate academic ability. Students with GCSE targets of 4 or 5 are celebrated equally with those who have GCSE targets of 8 or 9, where individual performance shows students are on-track to achieve.
At any particular time, a student's current grade can represent 'Below expected progress', 'Making expected progress' or 'Above expected progress'.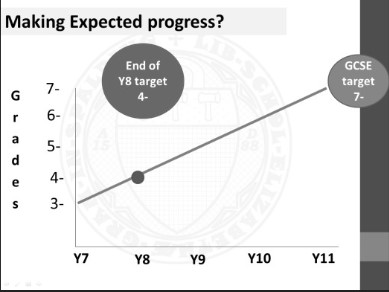 Flexibility when students progress differently:
The curriculum has been designed to support learning through the linear flight path model. However, we recognise that students learn and progress at varying rates at different times and in different subjects. Consequently, student flight paths may be changed in year. If students are progressing more quickly and are making 'Above expected progress', their end of year target can be increased. Similarly, if students are struggling to achieve and where this is becoming demotivating, targets can be lowered.